Overview
The cosmetic products industry in Sri Lanka has recorded a gradual growth in the past few years, with an eventual increase in the supply of these products in the market. With the rise in per capita income, urbanization, and use of internet, consumers have become much more informed about their skin types, and thus, are moving towards international trends, which has resulted in an increased demand of locally made private label cosmetics and imported cosmetics in Sri Lanka.
In Sri Lanka, cosmetics can be registered only if the cosmetic manufacturer (foreign brand owner company) is registered with the National Medicines Regulatory Authority (NMRA). The registration of manufacturers must be done by a Cosmetics Legal Representative (LR) in Sri Lanka, who shall act as the cosmetic registration certificate holder and importer.
Before applying for cosmetic registration in Sri Lanka, a cosmetic import license, known as sample import license, must be obtained. Additionally, evaluation of samples along with necessary documents is carried out by a Cosmetic Evaluation Subcommittee (CESC), appointed by the Cosmetics, Devices and Drugs Technical Advisory Committee (TAC).

Manufacturers aiming to place their cosmetic products in the Sri Lankan market are required to apply for a cosmetic registration certificate. In Sri Lanka, cosmetics notification is completed by submitting a  cosmetic application via Form A & B Schedule I  to the National Medicines Regulatory Authority (NMRA), and based on the inputs of the Cosmetic Evaluation Subcommittee (CESC), which also includes the cosmetic product safety assessment, a Provisional Registration (PR) shall be issued. The Provisional Registration (PR) will be issued for the first year for any product falling under the Drug, Device and Cosmetics etc. category. If the evaluation committee deems the submitted documents to be satisfactory, then the PR is issued. Post that, the committee issues a Full Registration (FR) for 2 or 5 years (most of the times the FR is issued for 5 years). In case the documents are not demmed to be satisfactory or if the dossier lacks any documents, the committee can still issue a PR, however, the committee would require the applicant to submit the balance documents, along with the FR application documents. If documents are not satisfactory, the committee can reject the cosmetic application altogether, along with the reason of rejection.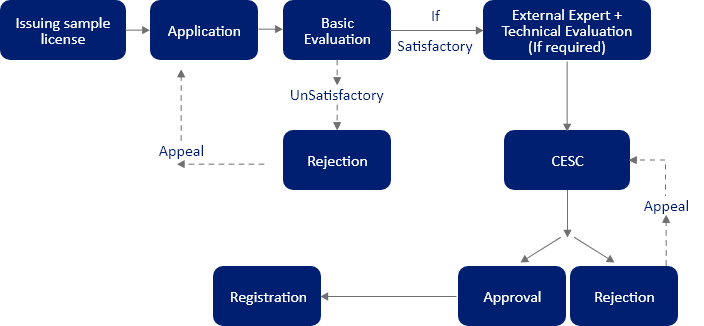 Freyr Expertise
Cosmetics Classification as per the NMRA Cosmetics Guidelines
Cosmetic Formulation Review/ Cosmetics Ingredient Review
Cosmetic Claims Review
Label Review as per the Sri Lankan Cosmetic Labeling Regulations/Cosmetic Labeling Requirements
Sample Import License
Dossier Compilation
Cosmetic Registrations application with the National Medicines Regulatory Authority (NMRA)

Provisional Registration
Full Registration
Cosmetics Legal Representation and Importation Services
Regulatory Support Services
Freyr Advantages
End-to-end cosmetic Regulatory consultation
Qualified team of experts with hands-on experience across all cosmetic categories such as skin care, hair care, baby care, oral care, beauty products, etc.
Support for region-specific Regulatory complexities
Strategic local Health Authority contacts
Structured and cost-effective approach to ensure compliance
Quick turnarounds and faster time-to-market